5 Mistakes To Avoid while Renting a Wedding Limo
There are several risks associated with hiring or may say booking a wedding limo service in Houston, but you can bypass them by making a few cautious decisions.
Often, the simplest way to improve an experience is to plan for and defend against the worst-case situation. Make the most of this concept as you organize your wedding. Consider the dangers and drawbacks before choosing a wedding limo hire. With a little forethought, you can perfect your wedding transportation by planning for those likely eventualities.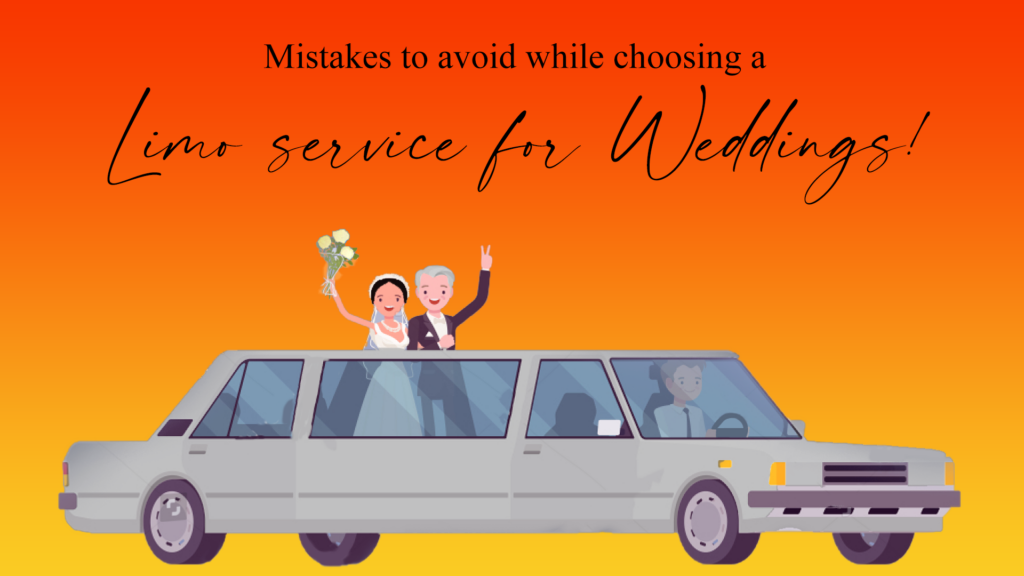 Here are five common blunders to avoid when planning your wedding limo transportation and logistics, which range from attempting to handle all of the trips yourself to allowing guest parking to become a free-for-all.
Hiring Of Un-professionals
Hiring transportation professionals is the first approach to hassle-free wedding transportation. You won't have to worry about scheduling multiple trips in various automobiles because your entire crew can join you every step of the way. It's reason enough to prioritize transportation, but there's also the extra benefit of having a variety of appealing, photo-ready options.
Taking into account the standard limousine
Every aspect of your wedding, including your car, should reflect your individual wedding style. From a decked-out party bus to a bicycle meant for two, there are a variety of ways to go from one place to another.
Choose an unusual vehicle for a photo-worthy getaway: A vintage convertible for a rustic outdoor wedding, a flower-wrapped pedicab for a laid-back metropolitan party, or a tandem cycle topped with streamers for a beach event are all fantastic options. A white Bentley or a black Rolls-Royce, on the other hand, will suffice.
Unable to verify the car owner
It'll be better if you find out if the vehicle you are renting is actually owned by the company you are dealing with. Things can get complicated if they do not have the car you want and they may borrow it from another vendor and chances are your ride might get late or may not show up. It'll be better to find a vendor who actually owns the specific vehicle that you want for your wedding.
Contract skimming
Your service contract may contain errors or inconsistencies, which may result in a late or no-show ride. It could lead to a late couple or unexpected guests. You could even be held liable for an accident that damages another vehicle, stains from spilled champagne, or an extra service bill. To avoid such inconvenience, pay close attention to each contract point. There are certain things you need to double-check, such as timings, date, pickup location, and drop off, the vehicles' model, color and brand, and the drivers' names. Also, you should check the cancellation and refund processes before signing. And most importantly make sure the company is insured and find out if it is licensed in the county where your wedding function will take place.
Leaving potential disruptions aside
The scheduling of your vehicle might mean the difference between a wedding that flows smoothly from event to event. A day filled with rushed travel, awkward delays, or guests who don't know what to do. Plan out your travel times and routes ahead of time (so you can have them with your contract), and add 20 to 30 minutes of "padding" for traffic and any other potential delays such as a local event or even weather difficulties to all of your routes. By paying attention to these details you can perfect your wedding transportation.
Avoid physical danger
One of the main risks of traveling by road is car accidents, which may cause serious injuries or death. To avoid this danger you need to ensure that your limo service is a chauffeured service from a registered firm. To avoid such risks our firm keeps inspecting minor flaws and repairs them. The maintenance of our vehicles is our top priority.
Avoid excessive spending
One needs to keep in mind the cost while scheduling your wedding transport. You can't spend too little because it will affect the quality. Also, you need to avoid overbudgeting. Our charges are reasonable, yet our reputation precedes us. We don't scrimp on service; we just have a system in place that allows us to deliver professional, fast, and cost-effective results. You won't spend a lot of money, but you'll have a memorable wedding day travel experience. 
When it counts, avoid dissatisfaction
The modest risk of dissatisfaction is difficult to define. Your wedding day should be dictated by your tastes and expectations, and that is exactly what will happen with our 24-hour customer service. Your satisfaction is our priority, and our customer service representatives are always there to help and change services as needed.
GMlimousine Services provides you with the best limo service in Houston. Our network of service providers and luxury vehicles are meticulously selected to assure perfection for the important events, treating you like royalty and providing elegance and enjoyment with safety, peace of mind, and serenity for everyone.
GMlimousine services in Houston place high importance on professionalism. Our crew is continuously on the lookout for methods to make your stay as pleasant as possible. Feel free to contact our customer care team with any questions or concerns; they are exceptionally nice and helpful. We're all listening!
Contact us at: +1 832-576-3910